Most Tuesday afternoons around 4:00 (while Mabzie's with her piano teacher), you can find me scrounging around in baskets and bins at the
Y Thrift Shop
. The stuff I like is small and usually settles down in the bottom.
Today's treasures (shown here on a penny rug made by my quilting friend, Sandra) were a few pearl buttons still sewn to a
Rainbow
card- which I don't have in my collection- and a vintage tracing wheel, the handle of which I was thinking could be bakelite. Upon closer inspection, it seems to have a bit more of a sheen than bakelite, and has no visible scratches. It also failed the bakelite "smell test". If you're curious, a google search yields numerous good articles on identifying bakelite.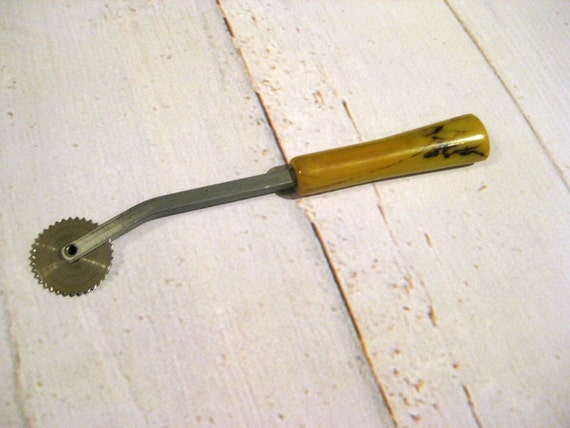 Described on Etsy as Bakelite handle


But, the handle is the same shape, and the metal parts are the same design, as the images from my google search for
bakelite tracing wheel.
I'm guessing mine is probably a later plastic like lucite, or reproduction bakelite, probably from the 60's rather than the Bakelite era, which was more like the 30's.
How much more aesthetically pleasing is it than the cheap blue plastic tracing wheels we buy today? It even feels better- smoother, more substantial- in your hand. And I'd say I got a bargain, since I paid a whopping 21 cents for the buttons and the wheel. Most of the similar vintage wheels I found online were priced at $10 or more.
I love upgrading my sewing tools, and there's always room for a few more pearl buttons!
What do you
always
look for when thrifting?